St. Patrick's Day Parade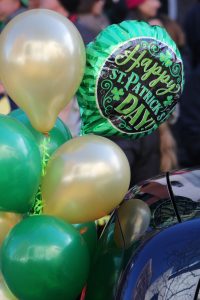 We are happy to announce that plans are underway to host our 21st annual St. Patrick's Day Parade in downtown Kalamazoo on Saturday, March 11 starting at 11:00 am.   The parade route is the same as past years, beginning on Burdick St. at Michigan Ave., traveling south to Cedar St.
Parade entry/sponsor
If interested in participating in the 2023 St. Patrick's Day parade on March 11th or you would like to be a sponsor, please email: margarets74@gmail.com. The St. Patrick's Day Parade is proudly presented by the Irish American Club Of Kalamazoo.
Friends of the 2022 Parade 
Slappy & The Kalamazoo Wings, State Senator Sean McCann and the Kalamazoo County Democrats, Sons of Norway, Liam the Extra Large Leprechaun, Notre Dame Club, Willis Law and WWMT and CW7
St. Patrick Parade 2022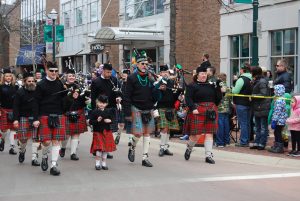 Our St.Patrick's Day parade took place on, March 12th, 2022 in Downtown Kalamazoo. State Representative and fellow club member, Julie Rogers, served as Grand Marshall. Kicking off at 11:00 a.m. at the corner of Michigan and Burdick Streets, the parade traveled south down Burdick to Cedar Street, turning right on Cedar St. and ending at Rose St. Over 50 local groups, families, schools, organizations and businesses participated in the annual event.
Several thousand folks lined the streets of downtown Kalamazoo with green being the color of the day. Shamrocks and Irish flags adorned the warm and sunny Burdick Street Mall. Highlights of the 2022 parade included the Kalamazoo Pipe Band, putting a little "kilt rock" on the mall.   Irish eyes were smiling as the Hackett Band kept in step playing some of everyone's favorite Irish tunes. Proving that you don't have to be Irish but share a love for Ireland, the Sons of Norway and The Kalamazoo Scottish Festival Association joined in our celebration. Local celebrities from television and radio,as well as several local sport teams participated. Families, proud of their Irish heritage rode in decorated vehicles or marched proudly behind banners etched with their family name or crest. Irish stepdancers kept the beat, local scouting troops, nonprofit agencies, businesses and restaurants all contributed to the fun and success of the parade by passing out treats to the onlookers.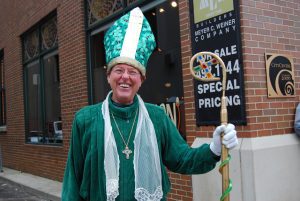 To top off such a fine day, the parade ended with St. Patrick, himself . To find out more about our club or being a 2023  parade sponsor or participant, please email margarets74@gmail.com.
May the Irish hills caress you.
May her lakes and rivers bless you.
May the luck of the Irish enfold you.
May the blessings of St. Patrick behold you.
Sponsors