Cead Mile Failte!
One Hundred Thousand Welcomes!
Welcome to the home page of the Irish American Club of Kalamazoo!
The Irish American Club of Kalamazoo is a non-profit 501 [c] [3] organization that is the proud sponsor of the annual St. Patrick's Day Parade in downtown Kalamazoo and the annual Kalamazoo Irish Festival.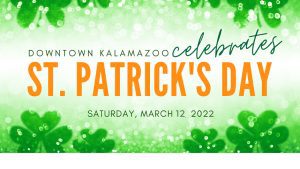 Downtown Kalamazoo – St. Patrick's Day Parade
On Saturday, March 11, 2023 at 11:00 am our annual parade will step off down the Kalamazoo Mall. Please come and join us.
Kalamazoo Irish Fest
LOCATION  – Old Dog Tavern  402 E. Kalamazoo Ave.
NEW DATE –  Saturday, June 18, 2022
TIME – Noon til Midnight – Doors open at 11:30
ADMISSION – Adults $15.00 – Students $10.00 w/ ID – Children ages 13 and under FREE
Thank you to everyone who came out to support us in 2019, and a big Thank You to the Old Dog owners, Sean &  Amy and to their amazing staff for helping to pull everything together. We were looking forward to doing it again this year on Saturday, June 18.
BASKET AUCTION WINNERS for 2019 were:
Spirits Basket – Allen Irish
Children's Basket – Alice Harn
Michigan Irish Basket – Doug Schnicke
Detroit Tiger Basket – Paula Wood
---
NOTICE –  Our next monthly club meeting and program is scheduled to take place Monday, September 12th, at the Traveler's Cafe & Pub, 5225 Portage Rd., Portage, MI. Starting in October this year, our monthly meeting night has been changed from the 3rd Monday of each month to the 1st Monday of the month. This is due to staffing shortages at the restaurant, and with this change our club will have exclusive use of the restaurant on these Monday nights.
This is the former Theo & Stacy's. New owners, new menu, new decor, same meeting room. Come join us and check it out. Traveler's is opening the restaurant just for us, so there will be plenty of space to spread out and "social distance".  Dinner and social hour begins at 6:00 P.M, meeting at 7:00, program at 7:30.
See Our Events Page for More Upcoming events!