Cead Mile Failte!
One Hundred Thousand Welcomes!
Welcome to the home page of the Irish American Club of Kalamazoo!
The Irish American Club of Kalamazoo is a non-profit 501 [c] [3] organization that is the proud sponsor of the annual St. Patrick's Day Parade in downtown Kalamazoo and the annual Kalamazoo Irish Festival.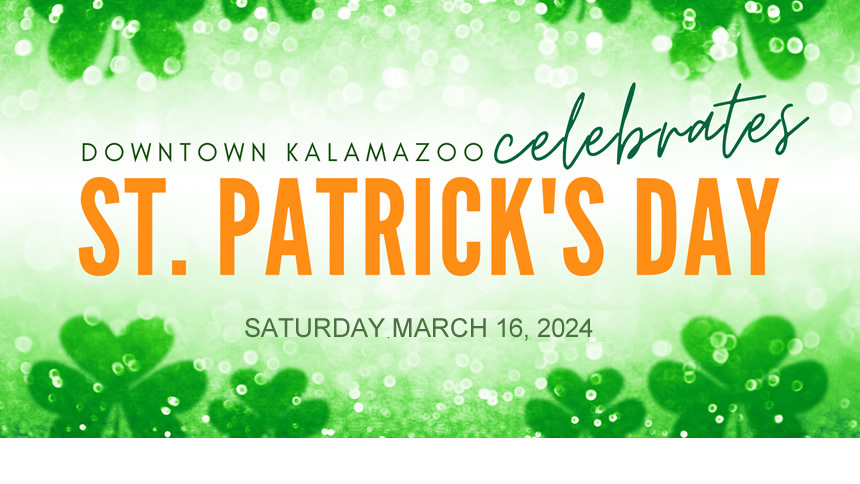 Downtown Kalamazoo – St. Patrick's Day Parade
On Saturday, March 16, 2024 at 11:00 am our annual parade will step off down the Kalamazoo Mall. Please come and join us.
Hooley for Healing – 
A Hooley is an Irish Party. On Saturday, March 11 after the parade we had a Hooley and fund raiser for Sarah House and Rita Saltarelli, 2 local women dealing with cancer and their related costs. Sarah is travelling back and forth to the Mayo Clinic and Rita is travelling to Houston to the Anderson Cancer Center for treatments. The owners of Rugger's Up & Under opened their doors early just for us and we had about 425 people come to party with us and helped us to raise over $14,000.00 through their generous donations and aggressive bidding of 40 different great items in our silent auction. We had music  from the Bog Road, step dancers from the Quinn School of Irish Dance, a kilt contest, and some kid's games and prizes, and some special menu  items and drink specials. Overall a resounding success and we're already looking forward to doing it again next year on March 16th . We hope you will join us and help us do this all over again.
---
SPECIAL NOTICE –  Our next club meeting and program is scheduled to take place Sunday, December 10th, at the Portage Senior Center. This is a special Holiday meeting and we will be there from 10:30 to 1:30 serving brunch. We will have entertainment and our annual silent auction and Celtic Seasons will be there for your last minute Christmas gift ideas.
We will be back at the Traveler's Cafe on January 4th to resume our monthly meetings on the 1st Thursday of each month.
PLEASE NOTE – Due to staffing issues, Traveler's will no longer be opening for us on Monday nights. We have decided to change our monthly meeting nights to the first Thursday of each month starting in September.
T SHIRTS – We have some 20th anniversary special edition T shirts left over from the festival for sale for $20.00. If you are interested, please contact us and we'll make arrangements to get 1 to you.
See Our Events Page for More Upcoming events!