Cead Mile Failte!
One Hundred Thousand Welcomes!
Welcome to the home page of the Irish American Club of Kalamazoo!
The Irish American Club of Kalamazoo is a non-profit 501 [c] [3] organization that is the proud sponsor of the annual St. Patrick's Day Parade in Kalamazoo and the annual Kalamazoo Irish Festival which benefits Loaves and Fishes of Kalamazoo.
2015 Kalamazoo Irish Fest at Arcadia Creek Festival Place
Friday, June 26 from 4:00 pm to midnight
Saturday, June 27 from 11:00 am to midnight
Admission is $8.00 for adults and $4.00 for students w/ valid student ID. Children 13 and under are FREE with adult
Free admission on Friday from 4:00-5:30 and Saturday from 11:00-noon with a donation to Kalamazoo Loaves & Fishes
Advance tickets are for sale for $6.00 at Gallaghers Eatery, The London Grill, Celtic Seasons and Sticks & Stones
---
Monthly Club Meeting
Our next monthly club meeting and program will take place Monday, September 21st at Theo & Stacy's Restaurant, 5225 Portage Rd., Kalamazoo, MI. Dinner begins at 6:00 P.M, meeting at 7:00, program at 7:30.
2015
*15th annual Kalamazoo Irish Festival
June 26-27: Arcadia Creek Festival Place, Downtown Kalamazoo to Benefit Loaves and Fishes
2016
*16th Annual Kalamazoo Irish Parade and Hooley – Saturday, March 12
See Our Events Page for More Upcoming events!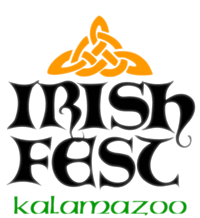 ---